If you've read my posts before, you know that I'm always plugging in something about the
Superstars Writing Seminar
I went to this year in Las Vegas, and for good reasons. In case you couldn't tell by my
DM3W articles
, I've made tons of amateur mistakes since I started to take writing serious two years ago. I've tossed my money into false hopes, marketed to uninterested audience, and waited for things to happen while I just sat back, watched, and hoped for the best. Yeah, I've made mistakes, many horrible mistakes. . .
but going to the Superstars Writing Seminars is the first right thing I've ever done for my writing career.
Me in Vegas with new author friend, Sean Young, & the inspiring James. A. Owen
After meeting the awesome Kevin J. Anderson at DragonCon in 2010, and discussing how he became the successful author he is today, he recommended that I go to the seminar. Unfortunately, I was too busy losing money to a book that kept getting reedits since I didn't invest in a good editor the first time. So I brushed the suggestion off.

A year later, I came back to DragonCon, desperate to meet Kevin again since my writing career wasn't working out the way I had hoped. Hehe, if I recall, I think I got up around 5:30 in the morning to make sure I'd catch him at his booth so I could talk to him, realizing I needed this guy to know that I was serious about my writing along with knowing my name. To my pleasant surprise, he actually remembered me thanks to my hair :P. After chatting with him about the seminar and telling him about my current writing experiences and struggles, he explained exactly what SWS could do for me. So, a couple of months later, I found myself in Las Vegas with a room filled with authors from all avenues of life.
Some were indie, some were traditional. Some had published, while others were aspiring. Then there were agents, editors, and even artists like me. Some were around my age, while others were more seasoned. Some were just starting out, and others were either New York Times Bestsellers or some of the best indie authors around.
Kevin J. Anderson, Rebecca Moesta, Eric Flint, David Farland, Dean Wesley Smith, Brandon Sanderson, Moses Siregar III, and James A. Owen. Wow. Respectful titans in their own respect. Not only did these people talk to us at panels, but they sat down with us during lunch time, at the bar, or even while we were seeing the sites of Vegas.
And what did I walk out with once the dust had settled? Sound knowledge on the business, an arsenal of networks, and amazing people I can't believe I can now call friends. If you are struggling with selling your books, or if you simply want to know how to be better at the lifestyle of an author, this is the seminar for you. Now, this isn't the sort of seminar that dwells on developing characters, plot placing and better story telling. No, this is all about the business aspect of being an author, a subject matter that's in dire need of discussion.
Like any good thing, SWS is something that will require some serious planning due to the cost. Buying plane tickets, a hotel room (typically discounted due to the seminar) and the seminar itself will indeed require some bucks. However, this seminar is an investment on our career, and the best investment I've made in mine. Before the seminar, "Prossia" only had 2 people that listed it as a must-read on Goodreads without a single review. Now. . . lemme see. After the seminar, I currently have 213 people who list is as a must-read and 5 reviews. I'm pretty sure that's not a lot by other people's standards, but considering where I came from, that's huge! The book was published way back in 2010, but it feels as if its true potential has only been realized since I came back from Vegas. And even though SWS only covers the business aspect of being a writer, my confidence in my creative craft has improved greatly because the seminar taught me how to find the right people who could make my stories stronger.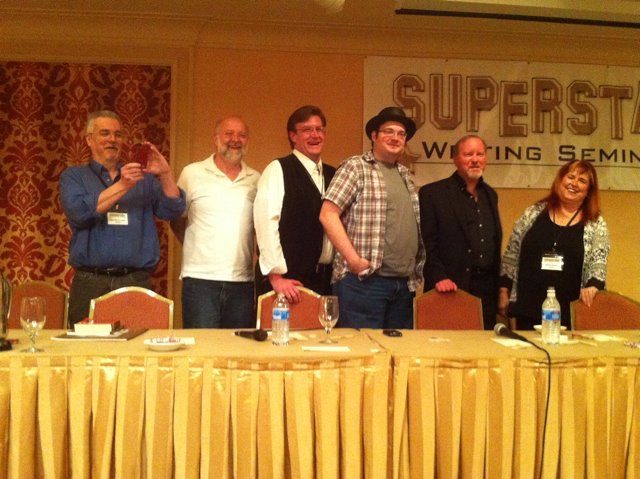 Dean Wesley Smith,
David Farland, James A. Owen,
Brandon Sanderson,
Kevin J. Anderson, Rebecca Moesta
In short, the Superstars Writing Seminar will not disappoint. I am very excited to see how my first post-seminar novel,
"Operation: Sand Gnat,"
does since it's a product of the four days I had in Las Vegas. If one can't go to 2013's seminar, then now's the time to prep of for 2014's. See, every writer should feel the way I did as I boarded my plane back home after the seminar: rejuvenated, excited, and ready to write the best story ever.